Life at the University of Bern
7-11 October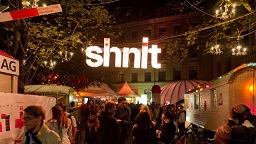 shnit International Film Festival (PLAYGROUND BERN)
shnit Film Festival is a great international film festival with international films. All "Open" films have subtitles in German and English.
23 November
Zwiebelmarkt (Zibelemärit) @10am
Zweibelmarkt (Onion Market) is a traditional festival in Bern with lots of Christmas stands, kinds running around throwing confetti and of course LOTS of onions. Truly a spectacle, the festival begins before dawn at 5am. True Bernese will be drinking a mulled wine at 6am, but seeing as we're students we'll meet at 10am at the Trainstation.
Philosophy Students' Committee
Fachschaft Philosophie