Lecture Series Spring 2021
Institutskolloquium of the Institute of Philosophy
Thursdays, 18:15 – 20:00
krino - Geist heute denken – neue Blickwinkel auf ein altes philosophisches Thema (German)
FS21_Plakat Institutskolloquium.pdf

(PDF, 358KB)
Access can be requested from the administrations office until 4pm on the day of the event: sekretariat@philo.unibe.ch
Some of the krino lectures towards the end of the semester might take place live. For those please register in advance: vorstand@krino.ch
Rescheduling:
The lecture by Prof. Dr. Gavin Lawrence, UCLA, on Contextualism and Final Value had to be postponed and will now take place on June 3, 2021.
Causation and Responsibility
Summer school in Berne, July 26 - July 30, 2021
krino
krino. Philosophische Gesellschaft Bern
Die Philosophische Gesellschaft Bern fördert den philosophischen Austausch und bietet eine Plattform für den freundschaftlichen Streit um das bessere Argument.
Courses
BeNeFri
Students from Bern can take philosophy classes in Fribourg and Neuchâtel.
BeNeFri-Courses FS 2021

(EXCEL, 16KB)
Hinterfragt - Der Ethik-Podcast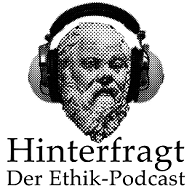 Hinterfragt - Der Ethik-Podcast
Andreas Cassee und Anna Goppel im Gespräch mit Philosophinnen und Philosophen über Themen der Ethik und der politischen Philosophie. Eine Kooperation des Instituts für Philosophie der Universität Bern mit dem Ethik-Zentrum der Universität Zürich.